CLICK ON BUTTONS FOR THE PAGE YOU WANT TO VIEW..




MEMBER PAGES
























Contact webmaster James Knapp at: daararacing@yahoo.com (321)439-3813


IS IT REALLY SO MUCH BETTER by Pastor Dudley Balmer
I recently walked through the pit and observed a young woman putting on makeup using her reflection in a stainless race car trailer for a mirror. One would have been hard pressed to find even a bug spec on this eighteen wheel highly polished race car hauler. Lots of dollars invested here to say nothing of the contents which undoubtedly equal the value of the hauler. But it is necessary for this kind of investment to put on a show for the paying fans, or is it?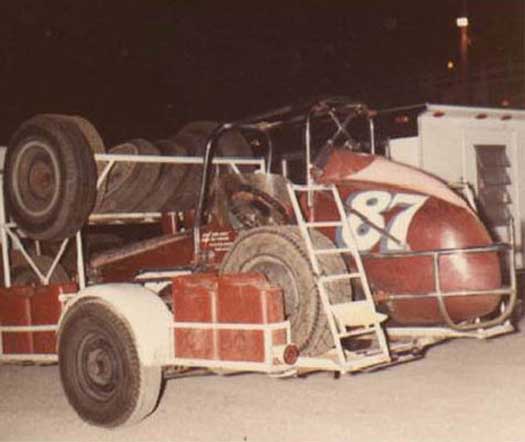 The way we used to do it
Is it more impressive today to field a mass produced, off the shelf race car, differentiated only by it's graphics than a handmade, highly chromed, one of a kind show piece of days gone by? There was a time when cars were treasured for many seasons, sometimes decades as opposed to the throw away cars of today. Whether it was a midget, sprint car or a champ car, you could actually see the driver at work as opposed to a rare glimpse of a helmet if the car is right in front of you today. But of course the 900 hp beasts of today put on a better show right? Well, yes they are a couple of seconds faster than their predecessors, but is the competition better? It sure was great to see your favorite driver fighting the wheel (no power steering) with diamond digger tires throwing rooster tails high into the air. Yes they were sideways too and wilder to point in the desired direction than today's machines. I can't remember anyone in the stands, in earlier days, saying "I wish these things were a couple of seconds faster". I wonder how many of the big dollar "shoes" of today could put on an open face helmet, a folded handkerchief and a pair of goggles and go run a hundred laps in one of the contrary animals of yesteryear.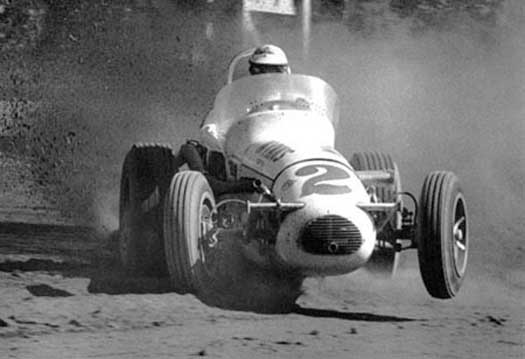 JR man handling the Deuce
The enclosed haulers everyone now must have are a far cry from the open trailers that carried the car, a few tires and four fuel cans. Most of us that towed these homemade trailers with the car proudly advertising the fact that this was a real race car, not some sedan with the glass removed and a number painted on the side, and we knew we were being watched. Often folks would follow us to the race track. Fueling up always meant you had to figure in time to take questions from admiring onlookers. The race car openly displayed on the trailer was a real testimonial to our intentions as opposed to a printed advertisement on a rolling billboard. I realize that the traveling series need their shops with them but we covered many states with what we could carry on the open trailer. Often someone was sent several hundred miles home to pick up a motor from the shop which would be installed under a tree in some race track or motel parking lot. Somehow it got done and the car was in the show at the end of the day. It wasn't pretty but it got done. Sleep was often a memory from two or more days past. A hot shower was often a memory from the distant past as well.
Cheap motels were a treat and the order of the day whenever possible. Many nights were spent sleeping in front of a pickup, sometimes with a couple of your closest friends. Motorcoaches were not even a vision at the time. Lots of meals were shared in greasy spoon diners rather than in the kitchen of your own motorhome. In my experience, Bobby Allen's shop often became home on a Friday or Saturday night. Likewise the late Don Martin's truck shop for the travelers coming to Lernerville. Racers and fans alike would welcome traveling teams in need of a place to work or rest up for a night. No matter the part of the country, there would be an invitation to recoup for the next event. It sure is more comfortable today. We like pulling over, starting the generator, putting something in the microwave and watching a bit of tv. We did however survive the earlier days and have the memories to prove it.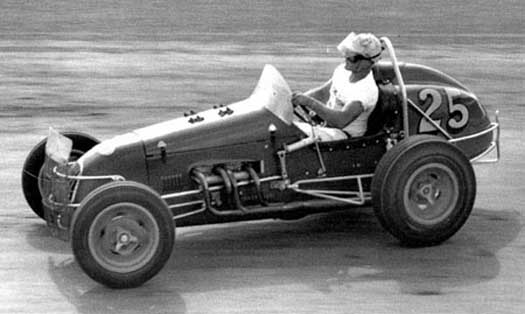 The late Jud Larson at speed
V8 60's gave way to Offys that gave way to Chevys that were replaced by the high dollar motors of today. Most of the drivers of 2013 never heard of the names Kuzma, Hillegass, Floyd Trevis, Curtis, Pop Dreyer or some of the other builders of what are now museum pieces. You could race all season for what today's guys spend on tires. When we do the DAARA vintage shows we get to once again hear the roar of the mighty Offys and even see a race car being transported on an open trailer. My concern is, that as us senior citizens fade into the sunset are we the final generation that will treasure our racing history. Will the hand made roaring pieces of history survive future generations or will they expire under the weight of the chrusher to be recycled into disposable 21st century throwaway appliances. It is my hope that we can instill the value of racing history to the younger set, but I would not stake the farm on it. Each day pictures, films, cars and the people that made them famous are being lost forever. Okay, enough of the reminiscing of seasons long gone. Everything is better now, right? Families, values, government, entertainment, music, racing. Maybe your perspective depends on how many seasons you have under your belt.
Yes, we should be on the road by now but our ministry obligations have us a bit delayed. We are experiencing withdrawals from not smelling alcohol, and tasting a bit of race track dirt but that will come. Nancy and I hope it is you that we get to see somewhere along the way. Remember, if you would like to participate in the restoration of the Tom Hagar modified or be part of our ministry in some other way, just contact us through the information on our web site. Until next time, God bless and see you at the races.


Get the grease and the shoe horn! Jerry Paquin's engine went in today, 5/14/2013..(Paquin photo)
Lots of tidying up to do. Make right front motor mount, relocate remote oil filter, reroute oil lines, figure out a path for radiator outlet to water pump inlet, move injector block which now interferes with underside of hood, run new fuel lines through new firewall, and so on..(Paquin photo)
Looks like a Chili bowl special..(Paquin photo)

ABBEY ROAD..John Paul George Ringo and JERRY PAQUIN
JERRY PAQUIN WRITES: I went to London to have tea with the queen, but they didn't have to drag out all the fancy stuff for little olé me.

CAPPELLI-PENNELL REAR ENGINE SPRINT CAR IS OWNED BY VINCE CAPPELLI IN SARASOTA..THE CAR WAS BUILT IN 1966 WITH BUICK V/8 POWER AND RAN ONLY 6 RACES WITH DRIVER RON LUX BEFORE IT WAS OUTLAWED..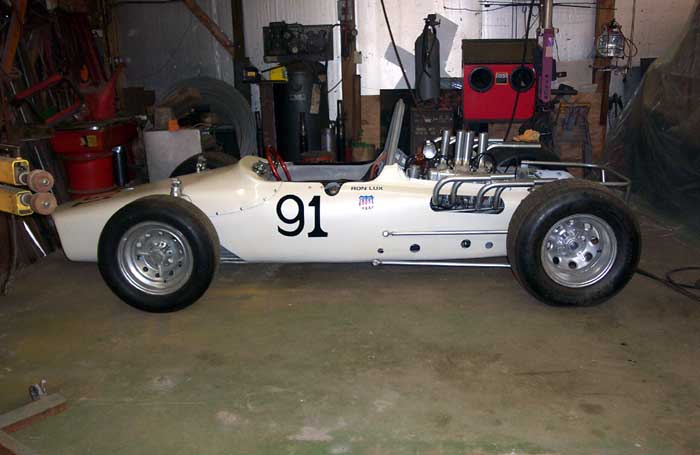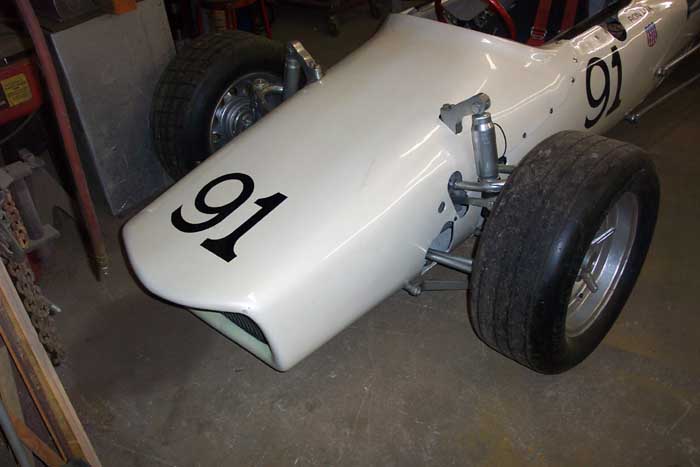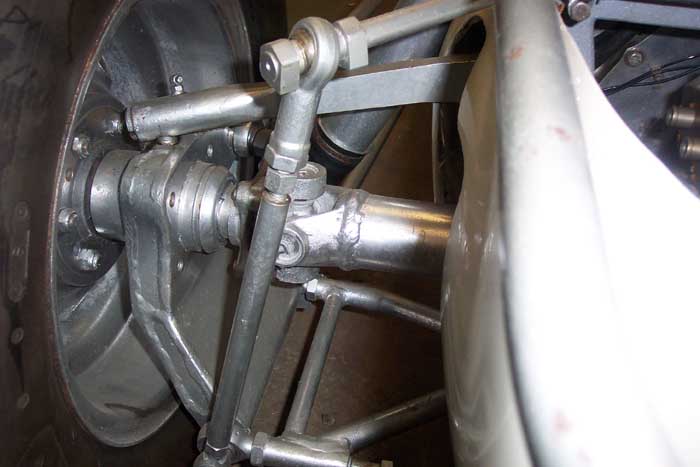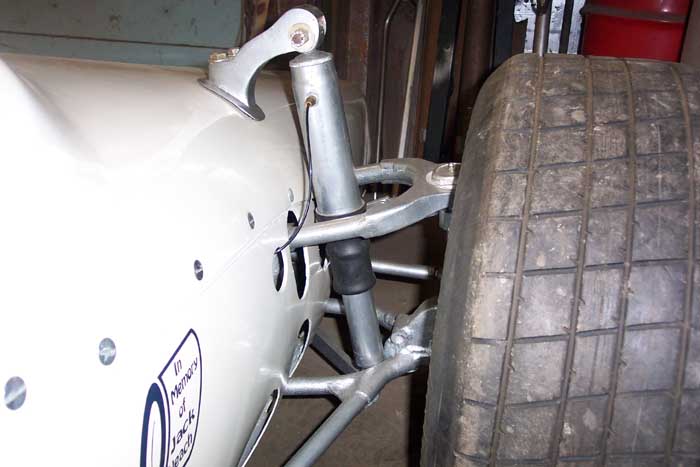 Contact webmaster James Knapp at: daararacing@yahoo.com


CHECKERED FLAG
RAY THOMAS-D.FEBRUARY 1, 2013

Return to the DAARA FRONT STRETCH
Copyright 2013 JAMES KNAPP All Rights Reserved